Giant Panda to be Released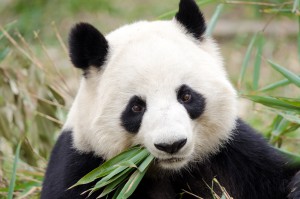 China will release another giant panda, bred in captivity, into the wild this Thursday. Hua Jiao, a two year old female, will be the fifth panda to be released. She is the younger sister of Tao Tao, a male panda that was released in 2012.
Hua Jiao has gone through extensive wilderness training. The wilderness training reserve where Hua Jiao currently resides is located in the Tiantai Mountain. She will be released into the Liziping Nature Reserve, the same place her brother was released.
The China Conservation and Research Center for the Giant Panda (CCRCGP) began releasing captive born pandas in to the wild in 2006. The first was a five year old male panda, Xiang Xiang, who survived only a year after release. Since then three more pandas have been released from 2012 to 2014. Of the three, two of the pandas including Hua Jiao's brother are alive and doing well. The pandas are monitored after release with the help of GPS collars and radio positioning tools.
Giant pandas remain one of the world's most endangered species, with less than 2,000 pandas living in the wild.  In 2013, 375 pandas were existing in captivity, 200 of those at the CCRCGP.  By releasing these pandas, the hope remains that one day they may no longer be on the endangered list.